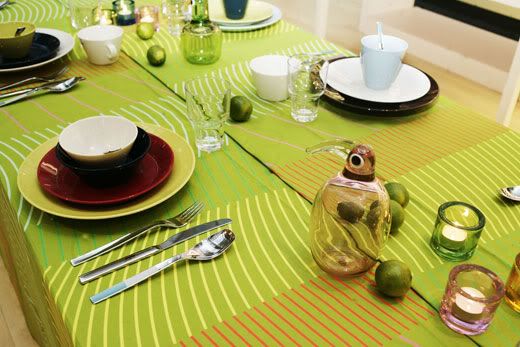 Asked by an editor at the GourmetLive app, Are there any stories about design and food? I came up with two pitches. The first,
"The Architecture of Food,"
ran last November and discussed the rising obsession of the design profession with food in all forms.
Jam-making jams, fertilized grow pockets, edible schoolyards, skyscraper farms. Every day my Twitter feed, nominally devoted to design, architecture and media, brings me a stream of architectural platings. I see packaging that becomes a food bowl, sidewalks that sprout, bananas with logos. Right behind the question Why Design Now?—the theme of this year's National Design Triennial—appears the question What to Eat Now? And designers seem to be throwing themselves at the answer for many of the same reasons. Now that we know we produce too much waste, now that aesthetics are suspect, now that we must compost or perish, how do design and architecture retool themselves for less, or better, or tastier consumption?
But once I started thinking about food and design, I found
I couldn't stop
, and now I am contributing to that feed. One of the themes that came up most often in my interviews was nostalgia, for forgotten tastes, home cooking, grandmother's recipes. And I found myself nostalgic for the kind of entertaining my parents did when I was a child: dinner parties.
On January 24, 1981, my mother had a dinner party. She served mushrooms Berkeley, Creole bouillabaisse, a green salad and pear and ginger pie. She used her white plates—Arzberg Athena, a wedding gift from my grandparents—and a yellow Marimekko cloth probably bought at Design Research. On April 19, 1987 she also had a dinner party. She served cantaloupe soup, poached rainbow trout and strawberries with sour cream. The plates were Della Robbia and the centerpiece was hand-dyed Easter eggs.
In a new GourmetLive essay,
"Whatever Happened to the Dinner Party?"
I describe more of those venturesome menus--
Ada Boni
was my mother's goddess, not Julia Child--and explore why this form of entertaining may have become an endangered species. What this has to do with design may not be immediately obvious (though my mother's tablescaping notes are charming), but I hypothesize that it is the shape and size of our homes, as well as a changed attitude toward time, money and food, that has made the dinner party rare. We are happy to pay other people to design our eating experience, when, back in the day, our mothers (mostly) used to do it themselves.
The dream of the dinner party, in my mind, is the reciprocity of effort: care has been taken by the host to get the food and the people and the mood right, and care has been taken by the guest to be on time and accessorized and without children. We could talk in peace, drink as much wine as we want and, maybe, relax. Those that we invite would invite us back. We'd make new friends. The ambitiousness of cuisine in Julie & Julia used to be universal (among a certain set), and now it is worthy of blog, book, rom-com. But I'm equally intrigued in the ambitiousness of the social life—as distinct from social climbing.
Read the rest
here
.