Last month I had dinner at
Seersucker
on Smith Street, a restaurant that manages to deploy
all
the cliches of New Brooklyn restaurant design: Futura lettering, graphite type, retro
and
Southern menu items, rusticated surface treatments (isn't that part of a barn?). The wall separating kitchen from dining room is wire glass, the better to backlight a set of two-gallon jars of chromatic pickles. And the water glasses?
Ball jars
.
Mini-Bonne Maman jars full of notions (via
nest full of eggs
).
I'd been thinking about Ball jars since my
plastics post
, where someone suggested bringing glass jars to the health food store, the better to transport your bulk food purchases. My eco-cousins have been using pickle jars as water bottles for years, and collected 200 Bonne Maman jars to use for drinks at their wedding.
Unconsumption
just posted a link to a series of 2009 posts on
nest full of eggs on "repurposing a jar"
for everything from food storage to notions to cookie cutters. The old-fashioned glass jar seemed to have new-fashioned environmental credentials.
And when I asked
What Should Food Look Like?
one commenter pointed out that the packaging of the high-priced Rick's Picks is not so much about the label as it is about the jar. Ignore the Clarendon, Cory wrote.
FOOD rather than packaging dominates. Packaging has been minimized in this case. Why? For class reasons -- these products are designed to appeal to patrons of farmer's markets, and those who place taste & naturally sourced foods over branding & packaging. Who are these people? Foodies. Are they elitist? Our current culture says yes. And the price point of these products demands that they are.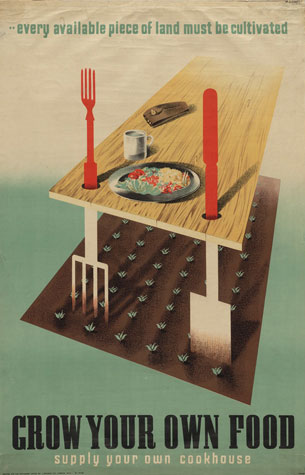 .
Farmer's markets, in New York at least, are trying their best to expand their reach to lower-income people, as are many new urban gardening initiatives. Canning used to be a lower- and middle-class pursuit, demonstrating a garden's plenty, a housewife's skill, a thrifty nature. During the second World War, canning, like planting gardens, was suggested as a patriotic gesture, as seen in this poster, featured in the MoMA's
"Counter Space"
exhibition. The more you made and preserved at home, the more for the troops.
I would argue that the packaging is still relevant, and that Cory has overlooked the dual meaning of the jar. The Ball jar is sold at radically different prices from the dusty back shelves of my hardware store and from the clean wire racks at my local
boutique kitchen store
. One presents it as a utility item, sold in bulk and in season. The other presents it as an ingredient for a brave new cooking project. And between the two lies the Ball jar's potential as a solution to
the packaging problem I identified
. It is simultaneously high and low, environmentally friendly and an enduring American-made product. Could some version of the solution to making good food look good to everyone be found in this humble jar?